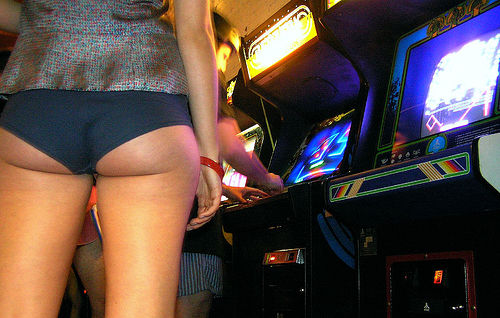 Barcade is one of the brash new beer bars popping up in the City. If 24 quality tap beers and a hand-drawn cask ale are not enough to lure the thirsty Williamsburg hipsters, the big boomy room also has a wall-to-wall glee run of old arcade video games, from Berzerker and Frogger and Ms. Pac-man all the way to Tempest, which is the only one I ever really mastered. (I'm a pinball guy, and I was good at it; video games, lacking both a TILT control to learn and finesse and the moving real-world parts to make the TILT skill relevant, never moved me.)
Last night the mysterious LVHRD Foundation brought the business to rainy Barcade with GMHRD, an Arcade Game tourney fashioned on ancient Greek sporting principles. That's an Arcade Game tourney played in underwear (LVHRD underwear is sold at the door in case you forgot yours, which can happen in Williamsburg). When I get there the serious friendly girl at the door invites me to take off my pants. "No, I'm not competing," I explain. Turns out lack of trousers is mandatory, and since I've got a couple of fine pins down there I shrug and decant for the evening. Or is that "depant" …?
The LVHRD subtext is all about Geeking for Glory; the last event I caught was the Science v. Beauty quiz show, where research types from better local universities were matched against startling one-named girls from some trendy agency in a battle of skills and wits (guess which team aced the liquors in the blindfolded smell test: "that," declared one of the models, "is Bombay Sapphire gin" — she missed the brand, but clearly had the price range down to an, er, science).
Tonight the nerd in us all is nourished. The competition heats play out in the centers of attention, and knots of boxered and pantied friends drift off to side-competitions at Galaga and whatnot. One guy takes out nearly all the Level Two gun towers in Star Wars, and as he plunges into the trench for his attack run his friends whistle, frolic, and cheer. You know how you always wished you could get public acclaim for some stupid thing you're good at that no one else wants to hear about? It's that kind of night.
We smile, chat, drink, take pictures, admire the trim minions who worship at the Church of Buns of Steel. Butts like that are made, not born. We count our blessings. But finding a place to put your wallet is a hassle.
More pictures in a Flickr photo set, memorializing the march of the undergarments. My phone service is being switched at home, so Net access will be tricky for the next week to ten days (actually the phone company is late at this point, but it will happen sooner or later).