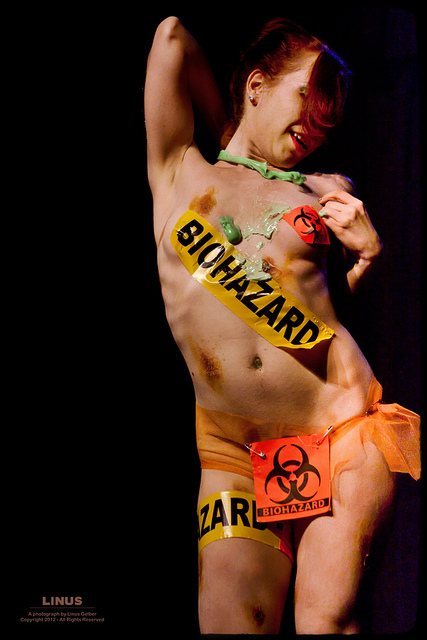 In addition to the usual regimen of seeing movies - so many movies, these last weeks, that when I skip a night it feels like I'm on vacation - and shooting burlesque shows, here at Chez Linus the days are filled with many pursuits: occasional acting projects, the c'mon-play lure of computer games, my Kindle-reading coffee-shop downtime hours, and the weekly ritual of not cleaning the apartment. (For those of you reading at home, this last is really not recommended. Two words: Augean Apartment.)
And the new: I've started shooting now and then in a Gowanus photo-studio share, which has been a great joy. I'm teaching myself how to shoot in the studio the same way I taught myself how to shoot at shows, which is all about trying things out and riding proudly around on my general inquisitive ignorance. (A roan, as it happens.) For my first shoot in there, since I wasn't ready to interface with the strobes yet, I brought two clip-on work lights and a roll of duct tape. I'm not a bug, I'm a feature; too much preparation, and I never get mounted.
Last week I spent some fruitful hours shooting in there with Izébel Vivant and a big bag full of costumes. We had a wonderful time. I've known Izébel for a couple of years, and shot her in many live shows (that's her up above a couple of weeks ago). She's a very experienced model - and lushly patient with me as I learn my ropes and try not to trip over them.
It's been a long time since I really embraced something new, and my mind strays often there. On March 1, the day of my first shoot, I sent a tweet as I waited for my model by the subway: A studio: a small white room, filled with dreams. It was more excitement than experience, but as it happened, it is very true.